Saving Money with AVT Services Vacuum Pumps Repair
All too often the rotary vane vacuum pump (which is the heart of most vacuum systems), gets neglected and causes a failure of your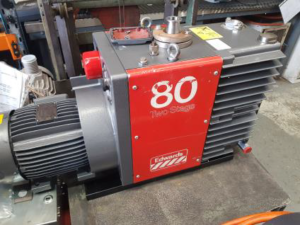 system, generally when it is needed most.
AVT Services has the most capable and experienced team of repair technicians in Australia, which is why those companies with critical applications always turn to us when in need of vacuum pump repairs.
The process for the repair of your pump at AVT Services is the most thorough in Australia, thus ensuring that you get the right repair done to give you the longest time between services.
The steps involved in repairing a rotary vane pump at AVT are:
Get the customer to complete a report which highlights the issues being experienced. This report also covers OH&S in that it lets us know if there have been any poisonous or dangerous materials used with the pump.
If the pump is running, connect it to our in-house test system so that we can see how it is performing when it arrives. In many instances we can report back to the customer that the pump is working fine and to look for other issues on their vacuum system like leaks. Data from the test is collected for reporting back to the customer.
Pumps are then stripped and examined for worn components. If necessary, an updated quote will be sent to the customer. If the condition of the parts is OK and we have a purchase order, the pump will be re-assembled with the appropriate parts.
Repaired pumps are then put back onto the test system and re-tested to ensure that they are performing as closely as possible to the original specification.
Once the pump has passed the final test, a pump curve is printed to show the incoming performance versus the repaired performance. This is supplied to the customer in either hard copy or electronic file so that it can be filed to meet the needs of quality systems.
Remember also that AVT Services has the

largest fleet of 2nd hand vacuum pumps

of all brands to ensure that whilst your pump is being repaired you can keep working.
Save your money & time with vacuum pumps repair services by AVT.
Contact us now for more information.