AVT Services Pty Ltd is Australia's largest specialist vacuum equipment supplier. From its head office in Sydney, and its branch offices in Melbourne, Brisbane and Perth, AVT Services provides sales and service support to vacuum users all over Australia and New Zealand.
AVT offers its customers a comprehensive portfolio of world renowned vacuum equipment, as well as a select range of exchange and in-house refurbished products.
With vacuum plant becoming increasingly critical in the servicing of transformers and transformer insulating oils, Hydraulic Oil separation. AVT has developed a range of innovative vacuum products specifically suited to suit all applications.
Fully Automated Transformer Dryer
AVT has designed and manufactured its own transformer dryer which can run two vacuum lines independently with a single vacuum pump at the same time. The system monitors and controls each vacuum line pressure independent of one another. Particularly using when evacuating a transformer that is not vacuum rated or has a membrane between two chambers. The system has its own on board touch screen control system, Data Collection such as Dew Pint, PPM, Temperature and Vacuum level, as well as an easy process for recipe editing, its proven to save you money on set up and supervision costs. Using the latest dry technology it has a pumping speed of 1925 m3/hr to an ultimate vacuum level of 1 x 10-3mbar. This system really is as simple as connect, power and press Start.
Gas analysers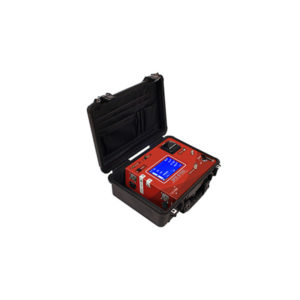 Cambridge Sensotec manufacture a range of dual and triple gas analysers including a specialist SF6 gas analyser for the power industry. These come in a range of portable and bench mounted oxygen and SF6 gas analysers for industry and academic institutions. Rapidox SF6 gas analysers benefit from their ease of use, electrochemical sensors, high sensitivity, rugged design and long life expectancy.
SF6 Gas Servicing cart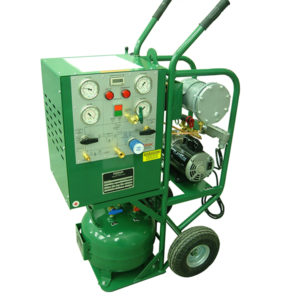 The ENERVAC SF6 Gas Servicing Cart is designed for the processing of Sulfur Hexafluoride used in high voltage metal-clad switch gear, bus ducts, accelerators, circuit breakers and transformers that are charged during normal operation with SF6 gas as a dielectric. The cart performs Removal of SF6 gas from equipment and liquefaction and storage of the gas in the on-board storage tank. The Servicing Cart evacuates the serviced equipment for dry out prior to re-charging. It has Re-evaporating SF6 gas and refilling evacuated equipment on board. Purification of SF6 gas is done by absorption and removal of decomposition products and moisture.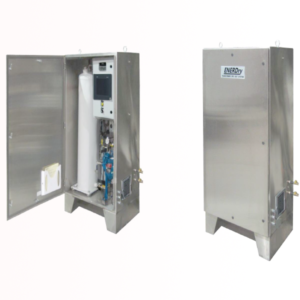 ENERDry – TRANSFORMER DRY OUT SYSTEM
Transformers and its paper insulation have a primary enemy – Water.  Water can be removed from a transformer using a vacuum dehydration process.  Now, however an easier and less expensive method can be used to remove the water from the transformer oil and its paper insulation.  Transformers that have 5% moisture or higher can be dried to acceptable levels without taking the transformer out of service.
Features
Removes moisture from transformer oil and insulation.
Maintains low moisture levels in transformer oils in service.
Able to dry transformers not braced for vacuum.
Safety system – isolates itself in case of alarm or power failure.
No paper filters utilized.
Optional Features
Transformer Oil Level Monitoring System (TOLMS)
Hygrometer – Doble Domino sensor for measurement of moisture level in the oil (PPM)
Touch screen interface with data logger with "PPM Trend" tool for monitoring moisture content over time.
E-mail /SMS alarm messages
Remote Monitoring of PPM Trend chart
Transformer Oil Regeneration Plant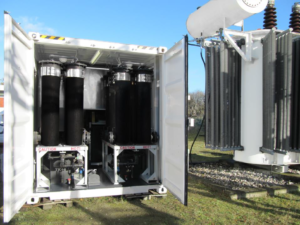 The mobile ENERVAC E575R is ideally suited for processing transformers that are either on or off-load and the skid-mounted E575R is well suited for tank farm applications. Historically, Fullers Earth has been used to reduce the acid number on a one-time batch basis then disposed of. There are obvious disadvantages to this, not least the environmental impact of dumping oily waste into a landfill. The ENERVAC E575R Transformer Oil Regeneration System provides an extremely cost-effective and environmentally acceptable method of extending transformer oil lifetime to over 100 years! Used oil is strained, heated and filtered prior to flowing into a bank of columns which are filled with an adsorbent media. The oil's primary physical parameters are restored during this phase. Upon exiting the columns, the oil is passed through a degassification unit and an after filter which restores the oil to virgin conditions. The banks of columns eventually become saturated and need to be reactivated. This reactivation is performed within the columns and does not require the adsorbent to be removed. The reactivation process typically takes 12 hours, during which time a second bank is used to process oil.
ENERVAC's unique control system allows for 24 hour processing without having to shut the E575R down. Once reactivated the bank is again ready for processing. On average, between 300 and 500 Reactivations per bank ensure that the media only needs to be changed every three to five years. Once exhausted, the media is reactivated one final time and is then discarded as a dry waste