TriContinent Offers Single and Multi-Channel Syringe Pumps That Are Proven Liquid Handling Component For Lab, In Vitro Diagnostics, and Other Instrument Manufacturers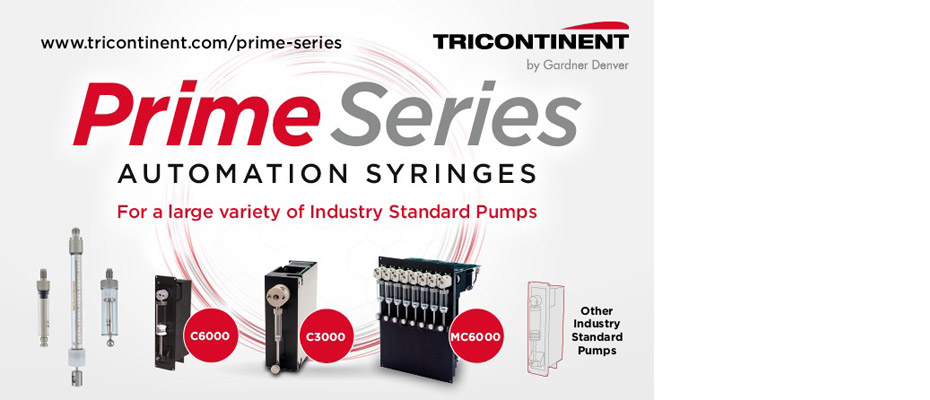 Prime Series is the latest addition to TriContinent's extensive and versatile product line of high quality syringes. These precision instruments offer optimal performance and can be customized in a variety of characteristics in order to fit each customer's specific needs.
TriContinent's new Prime Series Syringes work with industry standard applications in the liquid handling market. They are available in different sizes from 50 µL (micro-liters) to 25 mL (milliliters) and are made from the highest quality materials in order to deliver optimal performance in each relevant application. The production process of the new premium syringes makes use of Borosilicate Glass 3.3, which is the best of all Borosilicate compounds for low thermal expansion and chemical resistance. The seals in Prime Series Syringes are made from only the highest grade PTFE and UHMWPE compounds for extended life.
TriContinent provides a wide range of various syringe pump modules known for their long-lasting and exceptional quality. They are designed for precision and accuracy and offer a unique combination of stable low flow and low pulsation for various liquid handling applications, including IVD (In Vitro Diagnostics).
TriContinent offers a seamless replacement for industry standard syringe pumps using the Cavro® protocol. We provide industry-standard syringe pump modules for OEM laboratory instruments that provide the highest accuracy and precision (C-Series and CX-Series) as well as affordable solutions for all standard pipetting tasks (AccuPump and BasePump). The available syringe sizes ranges from 50 µl up to 12.5 ml (C-Series and CX-Series).
Click here to learn more: TriContinent Prime Series Syringes
Contact us for more information.